Shoulder impingement is the narrowing of space between the joint linking shoulder blade and collar bone, and the top of the arm that results in 'pinching' of the rotator cuff tendons (especially supraspinatus) and or bicep brachii.
Impingement can occur in 3 different stages.
Stage 1 – usually occurs in under 25 year olds. Swelling or inflammation resulting from excessive overhead activities.
Stage 2 – usually occurs between ages 25-40 yrs. Tendinopathy resulting from repeated episodes of mechanically induced inflammation; vigorous overhead activities, excessive repetitive use or heavy lifting .
Stage 3 – usually occurs in 40 yrs plus – changes to rotator cuff, biceps and adjacent bones, leading to tendon ruptures and alterations to the acromion.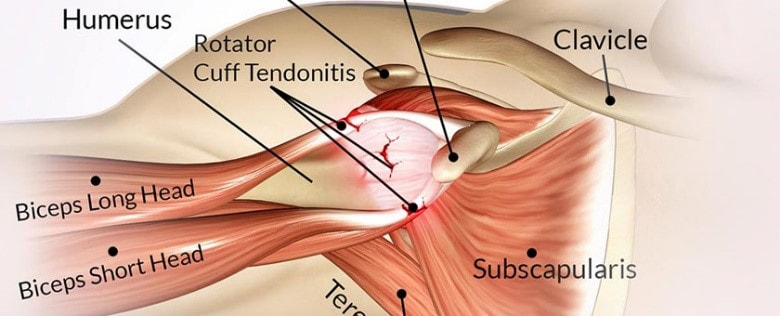 Who Is most effected?
Impingement syndrome mostly effects people between the ages of 25-40 years of age, and typically people who are athletes or labours. Some of the main risk factors are ;
Prior injury or repeated activity – swimming, volleyball, painters and racket sports.
Shoulder instability
​Where does it most effect your life?
Impingement will vary for everyone depending on the stage and mechanism of injury. Some common symptoms of impingement are;
Dull achy shoulder with pain that is worse with shoulder abduction above 80 degrees.
Sudden onset of sharp pain in shoulder, with tearing sensations.
Gradual increase in shoulder pain with overhead activities.
Pain possibly worse after sleep.
What can we do to help?
A physical assessment can be done by any member of the team to diagnose. Here at ProHealth we can offer massage therapy, mobilisations and rehabilitation for impingement.
​
​
What can you do to help?
Continue with rehabilitation, and avoid sleeping on hard mattresses with shoulder abducted above head
– Chloe, ProHealth