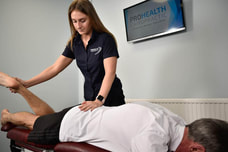 What are the common causes?
​About 80% of adults experience low back pain at some point in their lifetimes, so you are not alone! The majority of low back pain is mechanical in nature and quite rarely related to any serious underlying conditions!
Sprains and strains account for most acute low back problems (pain that has lasted less than six weeks).
Other common causes include:
Trauma – a fall or involvement in car accidents
Degeneration – normal wear and tear that occurs in the joints, discs, and bones of the spine as people get older
Sitting posture – slouching in chairs, sedentary lifestyle
Who does it most affect?
Low back pain affects men and women equally but there are certain things that can increase the risk of developing low back pain:
Fitness level – weak back and abdominal muscles may not be able to support the spine as well as they should
Older age – back pain becomes more common with advancing age
High job demands – having a very physical job including heavy lifting
Mental health factors – depression and anxiety can have an affect on pain perception, leading to chronic pain
Pregnancy – pelvic changes and alterations in weight distribution
Where does it most affect your life?
It is the most common cause of job-related disability and a leading contributor to missed work days.
Any type of low back pain can become quite uncomfortable, especially when trying to get a good night's sleep
What can we do to help?
The majority of low back pain is mechanical in nature, meaning that there is a disruption in the way that the spine, muscles, inter-vertebral discs, and nerves move and work together.
Michael and Paige are trained in assessing these structures to find where the pain is coming from and to treat the cause of the problem. Chloe and Amy are be able to offer massage and rehab exercises to help strengthen up the core and low back, and to prevent further injuries.
​
Book Online 24/7 with any of our therapists by clicking here.
What can you do?
Studies show that low-impact aerobic exercise is beneficial for the maintaining healthy inter-vertebral discs.
Be aware of posture throughout the day, especially when bending and lifting.
When at work, make sure chairs and work surfaces are at a comfortable height.
Don't worry about it! Ensure you're drinking plenty of water and getting enough sleep